Championing Diversity, Equity & Inclusion in Football
28th Jul 2023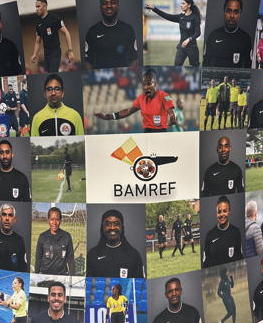 Last weekend our CEO (Rochana) attended the annual Black, Asian and Mixed Heritage Referees (BAMREF) Conference; this year held at the home of English football: Wembley Stadium. Here are her thoughts...
What is BAMREF?
Founded & led by change-makers Aji Ajbola (he/him) & Joel Mannix (he/him), BAMREF is a voluntary-led Employee Resource Group (ERG) created by and for Black, Asian and Mixed heritage football referees across England.
This team are delivering meaningful changes to refereeing that will positively impact football as a whole.
The BAMREF conference
The BAMREF conference speaker list included notable names from The Football Association (FA), the Premier League (PL), Professional Game Match Officials Limited (PGMOL) and "Kick It Out": football's equality & inclusion campaign.
Whilst addressing racial inequality & discrimination are the focus of BAMREF, the notion of "we are not free until we are all free" rang true throughout the conference, with other marginalised groups (women, different religions, disabilities) also being given a platform to share their voice too. For example: Lisa Rashid is 1 of 4 female assistant referees in the English Football League, and who is of Asian heritage, shared her story & challenges faced in her rise from Birmingham's Sunday League to Women's World Cup.
There is no lack of talent...
Throughout the day, the keynote speeches, panel discussions and interactive Q&As painted a clear picture: the issue isn't a lack of "diverse talent" (there are almost 2000 qualified referees from Black / Asian / Mixed heritage backgrounds, and 2,500 women), the issue is the lack of equity & inclusion… compounded by a lack of data.
The conference discussed the initial barriers to entry (often related to socio-economic family status and lack of access to opportunities), as well as promotion processes that seem to be inequitable & biased. This has resulted in a bottleneck as well as a 'glass ceiling' that means the community of top match officials we see are not representative of even the footballer community itself, much less the general population.
However, outcomes are clear, there lacks the data to 'quantify' the current landscape and help progress the conversation from positive intent into meaningful impact.
So what's the prognosis
With the hiring of a Head of Race Equality at The Premier League, an EDI Manager at PGMOL and a Refereeing EDI Delivery Manager at The FA, there is a wonderful opportunity for these cross-functional and overlapping organisational bodies to unite on the mission and strategy: increasing DE&I amongst football referees by leveraging data to create progressive time-bound roadmaps; and inspiring other organisations in the sporting world to do the same.
- Rochana Jackson
How Divrsity is helping
We are super-excited to be working with BAMREF and PGMOL to safely collect anonymous data that can be turned into actionable insights, and used to drive meaningful impact and positive change across the football industry.
If your organisation is ready to move the dial when it comes to DE&I, don't hesitate to email support@divrsity.team for more info, or get in touch with our CEO directly on rochana@divrsity.team
More Blog Articles
Learn why we created Divrsity
Understand how Lenses help you create an inclusive company
Learn about best-in-class comms strategy to maximise DEI survey response rates