Run your own Diversity & Inclusion Survey in 3 easy steps
01
Customise your Survey

Start with 50 template questions about Diversity, Equity, Inclusion, Bias and Belonging.
Questions constantly evolve based on feedback and our experience running thousands of surveys: so you can be confident that none will cause offense or disenfranchise any demographic.
Add, Customise and Remove questions with our easy-to-use Interactive Survey Builder (screenshot)
Invite your colleagues and ERG leaders to collaborate on the questions. See our blog article on Comms Best Practices.
02
Run the Survey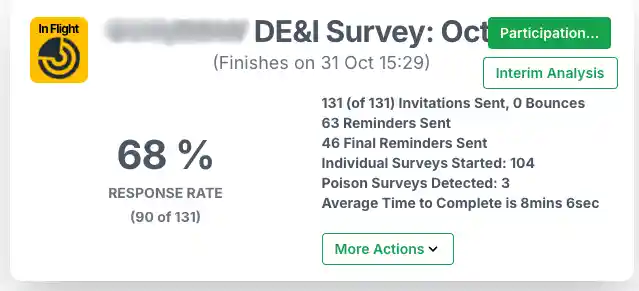 Surveys take <5 minutes to complete
Expect participation rates >70%.
Track survey completion rates in real-time, see e-mail bounces and check the number of (configurable) reminder e-mails sent.
We are obsessed with security and anonymity, meaning high participation rates and ensuring that you are shielded from all GDPR concerns.
03
Analyse the Results

Interactive Charts (screenshot) automatically highlight the things that you are doing well, as well as opportunities to improve.
Results are available <5 minutes after the survey completes.
View Diversity, Inclusion, Equity, Bias and Belonging through multiple Lenses
Use your insights to create action plans that make meaningful and measurable improvements.
Simple, Straightforward Pricing
Our pricing structure is deliberately simple: a flat fee per survey, based on the number of participants
All prices are in GBP and exclude VAT
Small / Medium
(Up to 250 survey participants)
Was £750 per survey
£499

per survey
---
>50 template Questions & Lenses
Add unlimited Questions & Lenses
Secure & anonymous
Pay by invoice or credit/debit card ONLY when you launch a survey
Comprehensive E-mail support
Corporate
(Up to 2000 survey participants)
Was £1500 per survey
£999

per survey
---
Everything in SME, plus
One hour of FREE consultancy for results analysis / insight
Enterprise
(Up to 20,000 participants)
Was £1500 per survey
£1500

per survey
---

For 20,000+ survey participants,
please contact us
Frequently Asked Questions
Is it secure?
Yes! Divrsity works with world-class security experts to ensure the platform is 100% secure.
All data is stored and transferred using military-grade encryption and we delete all personally identifiable information (PII) as soon as that data is no longer needed. For example, we immediately blank-out e-mail addresses for completed surveys, and all non-summarised survey data is purged within 10 days of survey completion.
Is it anonymous?
Yes! Divrsity is obsessed with anonymity. Unlike certain other survey tools, we don't drop cookies, track IP addresses, or try to get participants to sign up to run their own surveys at the end !
Survey results only show aggregated data, and it is impossible for survey administrators (or Divrsity employees) to gain access to individual survey responses.
This means that participants can answer truthfully, knowing that their information will remain completely anonymous.
What about GDPR?
Under GDPR, Divrsity is a data-controller. This means that we collect personal data on your behalf, exercise overall control of the personal data, and take responsibility for the processing of that data.
To minimise the likelihood of data being compromised, we purge all data from our systems as soon as it is no longer actively required for us to provide our services (see the question on security).
This means that working with Divrsity shields you from any and all GDPR issues associated with running your D&I survey; you do not receive ANY Personally Identifiable Information (PII) and there is zero information that can be revealed via a Subject Access Request (SAR)
What response rates can I expect?
Response rates are usually in the 70-80% range; with the most successful survey garnering a whopping 94% across more than 300 employees.
Response rates will depend on your workplace culture; the Communication Strategy that you wrap around the survey; and the number and complexity of the questions that you ask.
Having run many thousands of surveys, Divrsity's template questions have constantly evolved; ensuring they are comprehensive, and easy to understand.
It's much easier to ensure high response rates when it takes the average survey participant less than 5 minutes to complete their survey.
How much does it cost?
We are on a mission to enable organisations to make data-driven decisions around D&I. That means we've worked really hard to build a cost-effective platform that is accessible to everybody.
If you have fewer than 200 employees, your survey will cost £499+VAT
Fewer than 2,000 employees, then your survey will cost £999+VAT
If you're a charity, it's completely free
If your company has more than 2,000 employees then please get in-touch with support@divrsity.team
See the pricing section for more information.
Is this UK only (we have international offices)?
Divrsity has been designed to be flexible, collaborative, and to allow questions to be localised for multiple countries.
The platform enables you to set up multiple subsidiary organisations; and to invite international colleagues to collaborate on a set of questions that are customised for their languages or customs.
e.g. We regularly see organisations create US and Australian subsidiaries so they can customise Ethnicity, Education and Social Mobility questions
What the difference between an ID&E Survey, a D&I Survey and an ED&I Survey?
None!
Many organisations have a deep and admirable commitment to improving Diversity, Inclusion, and Equity; what nobody seems to be able to agree is what to call it: Amazon calls it ID&E, Google calls it D&I and, in the UK, we've been talking about ED&I for many years. So pick your favourite and go with that.
Frankly, it doesn't matter what you call it: it's about asking questions, collecting data, and taking meaningful action.